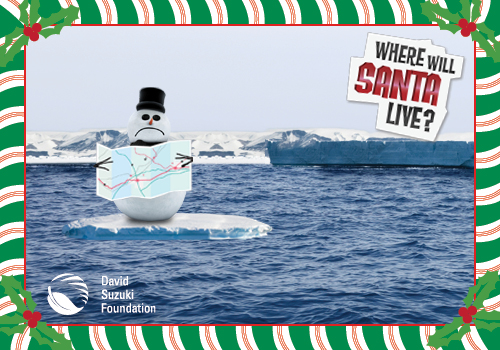 The David Suzuki Foundation has launched a campaign to raise awareness of the lack of ice coverage at the North Pole. Where Will Santa Live? is a fun spin on a serious issue and looks like a good way to talk about ice coverage while keeping the conversation entertaining.
"We're asking Canadians to do something novel and give a gift to Santa this holiday season," says David Suzuki. "We have to help Santa, the elves and the reindeer evacuate the North Pole and find a suitable temporary workshop in Canada."
Why give?

We hope you'll forgive us for having some fun with a beloved holiday figure. But climate change is no laughing matter.

Global warming is a serious problem, and poses a very real risk to all the winter traditions and experiences we as Canadians hold dear.

By supporting our "Where Will Santa Live?" campaign, you will be helping us develop a clean, renewable energy plan for Canada, affect climate policy decisions at a national and provincial level, and provide more resources to Canadians on how to go carbon neutral at home and at work, among many other initiatives.

Learn more about our work to turn back climate change and how you can take action to be part of the solution.